Your guide to protecting your rental property in Bloomington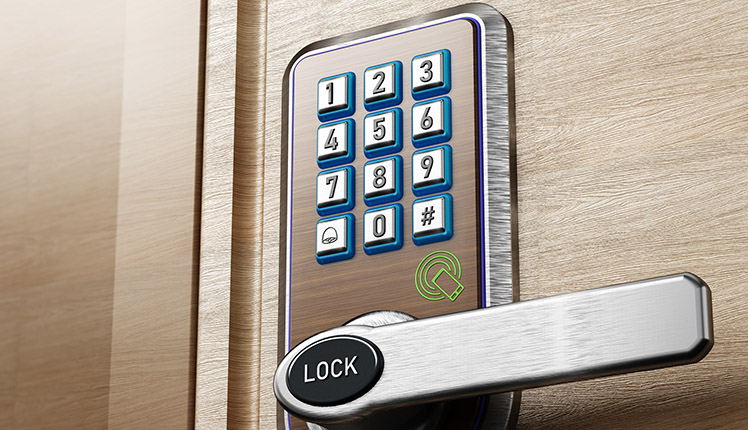 Regardless of whether you rent out a single investment property or have an assortment of Airbnbs, it can be difficult to protect your rental properties in Bloomington. With a constant turnover of guests, it's not hard to forget about a key when someone leaves or realize that you're no longer in possession of an expensive item. Not to mention, what would you do when there's an emergency like a fire at the property while it's being leased?
From smart door locks to fully automated security systems, here are some top recommendations on how to protect your Airbnb in Bloomington.
Smart door locks stop key copies
When a guest checks out, they may return all keys for the next guest. Although, if a tenant took or copied a key, they could access your place again sometime in the future. Needless to say, you have the option to switch out your locks when a key is lost, but that takes time and money.
Thankfully, you can install smart door locks that operate along with your security system to alleviate these worries. You will then provide each renter their own unique entry code. When your occupants depart, there's no need to worry with an exchange of keys. All you need to do is program the door code to expire after they're gone. If former lodgers come back and try their prior entry code on the door, you will receive a message of a failed entry on your phone.
Smart home technology makes available rentals appear to be inhabited
Of course, you hope that your Bloomington rental property will have a steady flow of renters, but that won't always be the case. However, you need to give an impression that someone is home so your Airbnb isn't targeted by burglars. Incorporating a security system with home automation allows you to benefit from smart lighting, motion sensors, and security cameras that make your rental seem occupied.
Begin by setting your smart lighting to come on at specific hours of the day. You will also want your security app to alert you if your video cameras detect an intruder prowling in the shadows or walking toward your primary entry. You have the opportunity to take advantage of the talk capability so they know you're watching or program your lighting to automatically illuminate when a surveillance device or motion detector discerns suspicious activity.
Protect your Bloomington Airbnb with around-the-clock monitoring
Your tenants can sleep easy if they have protection against intruders, especially when Bloomington is not familiar to them. In the event a thief tries to break in, your home security system will not only sound a siren but will also ping your 24/7 monitoring team. Now, no matter where you are, assistance will be forthcoming. Your monitoring specialists will even act as your authorized go-between and loop you in as soon as you're free.
Along with home invasions, your monitoring hub can be linked to fire alarms, flood sensors, and CO detectors. It would be understandably upsetting for your visitor if flooding occurs or a fire breaks out. You will then receive a phone notification that an urgent situation has taken place, but an agent is also able to authorize help from emergency personnel while you're en route.
Get started with a modern home security package in Bloomington
The first step in protecting your Bloomington rental property is to install a home security system. Fortunately, Vivint provides options like smart lighting, smart door locks, and 24/7 monitoring. Reach out today and our home security experts will design a system that's perfect for your rental. Dial (309) 332-1140 or complete the form to begin!